Worldwide
12:16 17.10.2016
Here is a situation: In Paris, protesting against gay marriage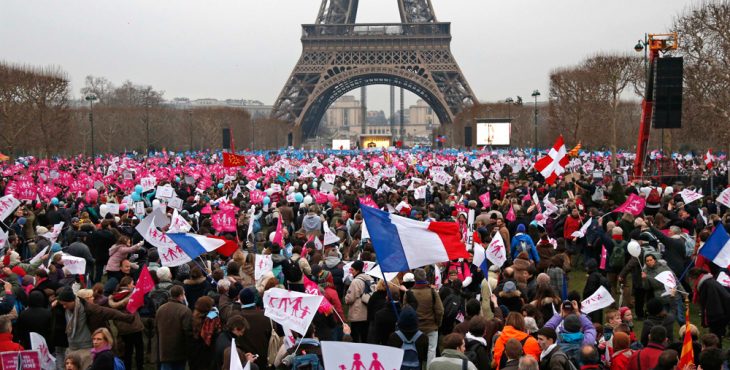 Tolerant Europe is trying to change the course: French residents unhappy legalization of same-sex marriage and want to repeal the law
Despite the position of the politicians, not all EU citizens agree with the principles of tolerance. On Sunday in Paris he was held another rally against same-sex marriage. According to police the streets were more than 25 thousand people. Protest organizers called an even more impressive figure - 200 thousand.
This protest is not the first, as in 2013 after the introduction of the law on the legalization of gay marriage in such meetings participated to a million people. Why such a tolerant Europe did not listen to the opinion of its own citizens? Well, you take the side of the majority is not it is not fashionable and not democratic. But to support the minority, which, in fact, do not need any protection, nor any privileges - is always welcome.
"We hope that our voice will be heard by the candidates in the upcoming spring 2017 presidential election. Whatever it was, we do not intend to leave the force and will seek the abolition of the controversial law, "- said the leader of the protest movement Lyudovin de la Roscher.
But despite the large-scale protests, activists are unlikely to change anything. Government is not necessary to particularly listen to the people. This is because you do not XIX century, when the inhabitants of France overthrew kings and altered the political system. Now amorphous population of the EU is able to only walk through the streets with banners. IG militants staged the attack - held a rally, went home and rested. Legalize gay marriage - protested and went about their business, because we have democracy, we must listen to.
Given the passivity of the population, it becomes clear why the government supports the more active members of the LGBT community, who regularly organize parades, ending in unexpected ways. That is why the upcoming elections it is unlikely that it will change. Of the three most obvious candidates only Marine Le Pen tries on the role of a reformer (which can not she come). Nicolas Sarkozy and especially Alain Juppe to change the existing way of life will not be - a lot of trouble, and no one to evaluate (not vysluzhivat the gratitude of the people in actual fact).
It turns out that many thousands and even millions of rallies in a democratic European Union in the calculation will not be accepted today, and will not be accepted in the future. Especially if they are in the "Advanced Security", as it was Sunday.
Ilya K. Especially for True TV
News under discussion
Recent comments

Geoffrey

about

Scientists have found a suitable place on Mars for life

Are you going to move there, buddy? Good luck!

13:00 20.10.2016

Craig

about

Scientists have found a suitable place on Mars for life

I was always sure there is some life on Mars.

12:59 20.10.2016

Theodor

about

What new technologies are ready to Russians

I'm looking forward to seeing teleportation device.

12:57 20.10.2016

Jenifer

about

My Granny is sti

My Granny is still afraid of cell-phones and uses hers only occasionally. I don't know how to make her more high-tec minded.

12:55 20.10.2016

George

about

What new technologies are ready to Russians

I think, Russians are afraid of the same things as Europeans and us, Americans. It shouldn't be a great difference.

12:54 20.10.2016

Richard

about

Apparatus "Venera-D" will study the second planet of the solar system for at least three years

Russians are trying to catch up with the USA again. Well, good luck!

12:48 20.10.2016

Nancy Smith

about

Apparatus "Venera-D" will study the second planet of the solar system for at least three years

All men are from Mars, all women are from Venus. I'm a real woman, so Venus is completely my planet.

12:47 20.10.2016

Jenifer

about

The game of war - a serious matter

I'll join you with great pleasure, Andris.

12:42 20.10.2016

Andris

about

The game of war - a serious matter

Guys, thank you for interesting publication. I'm Latvian, but I always supported Russian patriotic impulses and their devotion to thei... 12:42 20.10.2016

Dean

about

World Tour again leads Nazareth in Moscow

I didn't know they've got so many fans in Russia. Glad to hear it- they're lovely.

12:34 20.10.2016

Steeve

about

World Tour again leads Nazareth in Moscow

I can't wait until they come to Australia. Their last shows in Sidney were awesome.

12:33 20.10.2016

Anna

about

In Moscow, he began to pass the Festival of Contemporary Music

I also love Russian music, though I prefer Rimsky-Korsakov.

12:29 20.10.2016

Ivan

about

In Moscow, he began to pass the Festival of Contemporary Music

Chaikovsky is my favourite composer. He reminds me of my Russian origin.

12:27 20.10.2016

Veronika

about

In Moscow, he began to pass the Festival of Contemporary Music

It sounds interesting. I don't know any Russian composer properly, moreover, from avant-garde direction. I'm eager to visit it.

12:26 20.10.2016

Geoffrey O'Neil

about

In the first nine months of 2016 Moscow was built 14 educational institutions

I see life in Russia is daily improving. I think Moscow will be the next point on my travelling list.

12:21 20.10.2016

Veronika

about

In the first nine months of 2016 Moscow was built 14 educational institutions

With more and more new people coming to Moscow for jobs and better life, it is not surprising. One of my Moscow friends says that some... 12:19 20.10.2016

George

about

In the first nine months of 2016 Moscow was built 14 educational institutions

I think, kindergartens is Russian nowhow. I wish there were some in the USA, too.

12:16 20.10.2016

Craig

about

All stations of the Moscow center of the ring will be charged for gadgets

Thank you, guys! I'll use them for sure when I'm in Moscow next time.

12:12 20.10.2016

George

about

All stations of the Moscow center of the ring will be charged for gadgets

It's a fantastic news. I'm just going to Moscow on a business trip, so I can stop worrying about my cell-phone being without power.

12:09 20.10.2016

Nancy Smith

about

Electronic platform on cyber defense began to direct up to 15% of their costs

It's funny that Russians begin to think about information protection after all. They are so irresponsible in this aspect.

12:05 20.10.2016

William

about

Electronic platform on cyber defense began to direct up to 15% of their costs

I know Russian hackers- I was exposed by their attacks once or twice. I think they are outstanding, and, anyway, will cope with the ne... 12:03 20.10.2016